Interactive Soundart Projects
___Calling the Glacier________________________________Exhibitions
Ausstellungen, Konferenzen, Installationen etc.
Climate Change Minds. Ausstellung zur Klimakonferenz 2012 in Bonn, Bundeskunsthalle.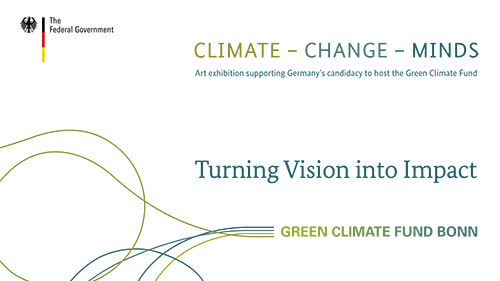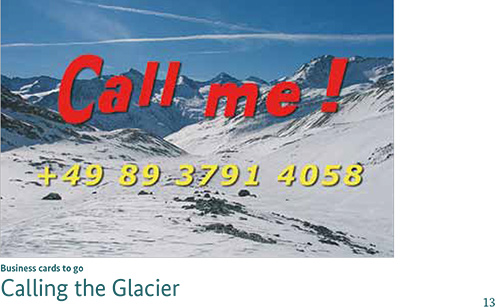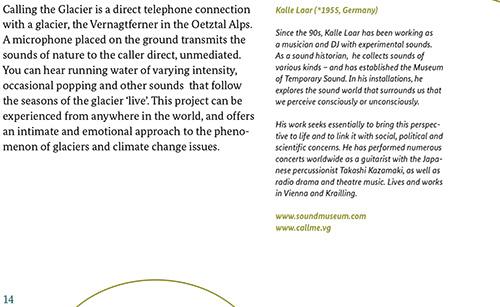 CLIMATE – CHANGE – MINDS
Climate change is altering the world. Prompting us to change the way we think. These artists open our eyes. To a new relationship with nature and to more responsible behaviours. To a whole new vision of the world. Art creates fresh perspectives – perspectives that change the ways we think and act. These artists have a message: we must combine efforts to protect the environment and make a positive impact – the world depends on it.
Germany has offered this vision an effective home with its application to host the Green Climate Fund in Bonn. Our common goal: Turning Vision into Impact.
Eleven artists from Europe, Latin America and Africa present their views of the world and its changing climate. They have long engaged with local and global questions of survival and coexistence in their work, and, in their different ways, all deal with the geological, bio- logical and societal implications of climate change.
This exhibition is flexible and wandering. Projects can be changed and exchanged. It is curated by Dr Christian Schoen and his colleague Dr Serafine Lindemann. It has received the generous support of the Art and Exhibition Hall of the Federal Republic of Germany.